A review from when we first opened – even the pictures look like they are from years ago never mind the food !!
The Location

The Sun Inn is in Lothianbridge, on the main A7 road from Edinburgh to the Scottish Borders. The most prominent feature of Lothianbridge is undoubtedly the impressive 23-arch railway viaduct, which once carried the Waverley Line southeast over the River South Esk. It towers above the A7 road, just across from the Sun Inn. Although the rail link (named after Sir Walter Scott's "Waverley" novels) closed in 1969, it is scheduled to re-open in 2013. The illustration here is via Wikimedia.
Good sound proofing means that customers are not aware of the noise from the high volume of passing traffic, particularly once it gets busy inside! Clearly, as its reputation spreads, the restaurant gets a lot of trade from surrounding villages (and Edinburgh is not far away either) as well as those passing by who are drawn in by the attractive white-washed building with its flower boxes.
Not far from Lothianbridge are Newbattle Abbey and the National Trust Garden at Eskbank and Butterfly World with lots of tropical insects. And the Ornately carved 15th century Rosslyn Chapel and Historic Scotland's Crichton Castle are within easy reach too.
The Restaurant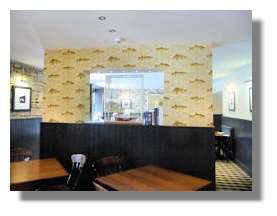 The former coaching inn sits on the edge of the River Esk in five acres of beautiful grounds and was bought in 2008 when the previous owner retired after 23 years in charge. The Sun Inn has already received an AA rosette in recognition of the food on offer – and no doubt other accolades will be awarded in the coming years. The premises have had a major refurbishment resulting in an oak floor and beams, exposed stone & wood panelling in the bar and restaurant. The main restaurant area is divided in two by an interesting wall with a model yacht inset into it and there is a more secluded side room as well as an external courtyard – for those who like to eat in the open air – or who have to, because of the law prohibiting smoking in public buildings! In carrying out the refurbishment, the new owners have managed to create a more modern ambience but without losing the feel of a friendly, traditional inn.
The hotel above has five rooms which have been totally modernised with monsoon showers, king size beds and LCD TV's with Sky. The Sun Inn has an AA ****+ rating for these boutique rooms.
The Food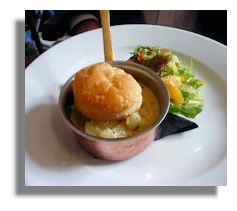 The Sun Inn sources its food locally as much as possible and the menu is changed regularly. They describe it as "Modern British with an emphasis on seafood and pub classics" which was a good description. There is a large printed menu available at the table, but do also take a look at the "Today's Specials" board. That is on a wall just as you enter the restaurant and is easily missed. On the day I was there the extensive list had an "early bird" section served from noon to 2pm and 6/7pm which included homemade soup; traditional Italian bruschetta with sweet balsamic dressing; potato enochi with chicken herb and three cheese cream sauce. Starters included wild pigeon breast on black pudding and spring onion, crushed new potatoes, drizzled with red wine jus; creamy garlic and tarragon wild mushrooms on toasted brioche. Main courses on the specials board that day included beer battered Pittenweem haddock with traditional mushy peas; whole lemon sole with new potatoes, shrimp butter and baby Caesar salad; slow braised Glasgow fillet on creamy mash with puy lentil and pancetta broth. Apparently, a Glasgow Fillet, otherwise known as featherblade or oysterblade, makes a tasty, slow-cooking braising joint. Such "old-fashioned" cuts are now coming back into vogue thanks to publicity from celebrity TV chefs.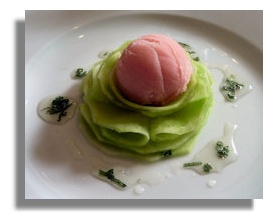 Don't think that I remembered all these menu items – or spent 20 minutes writing them down – a digital photograph of the board makes it easy to list the impressive selection. The attentive waitress had to come back to us twice for our selection as it took me and my lunch companion a while to decide from all that was on offer. This is perhaps the point to commend the friendly and attentive waitress service. When I am having a review lunch I am aware that staff perhaps make an extra effort, knowing that they are under scrutiny. But observing them attending other tables it was easy to see the same high standard throughout.
As a starter, my friend opted for the mini smoked haddock, leek and potato pie which, as you can see from the picture above, came in an attractive copper pot with a very long handle and a wee puff pastry lid with a citrus side salad. This proved to be as good as it looked and was pronounced "delicious". My attractively presented honeydew and galia melon with fresh watermelon sorbet and mint syrup was also a feast for the eyes as well as the taste buds. Most refreshing!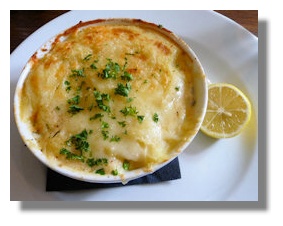 My choice of main course was an Eyemouth fish pie with Pollok, salmon, Belhaven smoked haddock, in tarragon cream topped with mashed (creamed) potato and melted Gruyere cheese. I think a few shrimps squeezed in there too. I love cheese and there was plenty of tasty gruyere, nicely browned, on top. The aroma of the smoked haddock was able to shine through, however. There was a side plate of vegetables, shared between the two of us – that could have been a shade more generous and that was my only criticism of the entire meal.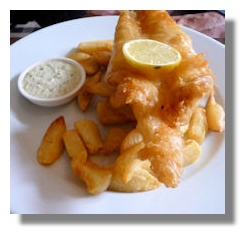 My lunch companion had spotted a haddock in beer batter and chips with mushy peas going past to another table (it was one of the items on the specials board) and opted for that. But omitted the mushy peas – these are dried marrowfat peas which are soaked overnight in water and then simmered with a little sugar and salt until they form a thick green lumpy mass. Sometimes mint is used to alter the flavour and green colouring is often used. They are popular in the North of England (and the West of Scotland). Fresh, flaky fish and tasty, crispy batter and "real" chips were just what he wanted. However, having gone for the larger sized fish portion, he couldn't find any space for a dessert afterwards – not even what was listed on the menu as "I screamed board" (groan).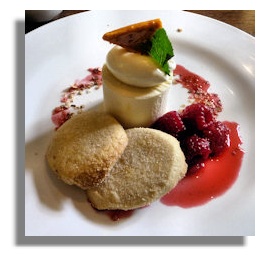 But I always feel that as a dedicated reviewer I really can't pass on the desserts (That's my excuse, and I'm sticking to it). I did, however, avoid the temptations of toasted almond and amaretto cheesecake topped with almond flakes (sigh) and went instead for the traditional Scottish "Cranachan" – a mixture of whipped cream, whisky, honey, and fresh raspberries topped with toasted oatmeal. Typically this is served in a tall, fluted glass. At the Sun Inn, the individual ingredients were on a plate with a raspberry jus and soft, crumbly shortbread. This perhaps reflects a traditional way to serve Cranachan which was to bring dishes of each ingredient to the table, so that each person could assemble their dessert to taste. In this case, all the ingredients were to my taste – especially the flavoursome raspberries and the melt in the mouth shortbread. I certainly didn't feel I had missed anything by not taking that cheesecake!
Full Review – http://www.rampantscotland.com/besteating/best_eating_sun_inn.htm